Introduction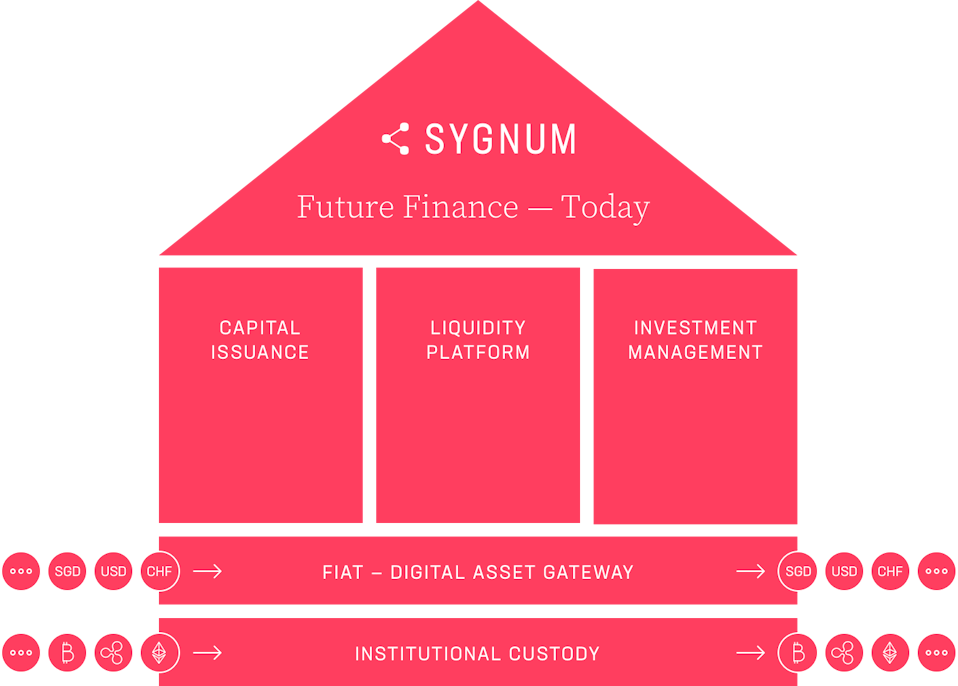 Sygnum is developing a suite of digital asset products and services addressing institutional and qualified/accredited investors as well as corporates & small and mid-sized enterprises (SMEs), including blockchain ventures.
CAPITAL ISSUANCE
In collaboration with daura, Sygnum is building an integrated equity issuance system to help companies raise capital from investors in an efficient and compliant manner.
The solution aims to enable corporates and small and mid-sized enterprises (SMEs) to "print their shares" on the blockchain and if requested to conduct a Digital Initial Public Offering (Digital IPO). These "Digital Shares" can then be sold to and traded between investors. We expect that going forward such "Digital Shares" will also be traded on fully regulated digital exchanges.
Advantages include easier access to relevant investors, lower costs as well as better liquidity for both issuers and investors.
INSTITUTIONAL CUSTODY
In a joint venture with Swisscom, Custodigit AG, Sygnum is developing an institutional investor grade custody solution to securely store digital assets within today's regulatory environment.
Our custody offering will enable financial services institutions to provide their customers full access to digital assets while ensuring adherence to all compliance requirements. The service is planned to run in Swisscom's trusted operational banking environment.
LIQUIDITY PLATFORM
On Sygnum's liquidity platform, we plan to provide best execution for major digital assets and FIAT currencies instantly on a 24/7 basis. With our web-based order management user interface Sygnum Trader the user will be able to access liquidity in real-time at any given time around the clock. The connection to a strong liquidity network of professional counterparties will ensure fast and reliable execution also of larger order sizes. This liquidity network will be the foundation of our deep liquidity pool allowing fast and reliable execution regardless of time and market state.
Our liquidity platform will be seamlessly integrated with our custody solution. The segregated accounts of the Sygnum Vault will keep your digital asset funds in secure and trusted custody using highest security standards.
INVESTMENT MANAGEMENT
Sygnum plans to provide access to a selection of managed digital asset funds for investors.
Our first fund product is the Sygnum Digital Asset Multi Manager Fund – investing in the highest quality digital asset managers across a range of strategies.
Our multi manager product seeks to enhance investment exposure to digital assets by identifying strategies and sourcing managers with the greatest alpha, while limiting the risk through diversification and through a rigorous due diligence process to mitigate operational risks.
In future we plan to provide further passive and active investment products as well as tailored solutions.